Screw Piles
Maximize the life expectancy of your new wood or composite/PVC deck or virtually any other building project with helical screw piles by Postech Windsor!  There are many advantages to starting off on a solid foundation with galvanized steel screw piles.  Applications range from decks, additions, outdoor kitchens, pergolas, ICF foundations, garages, cottages, concrete slab support, underpinning and foundation repair, anchoring car-ports or solar arrays, industrial, commercial, agricultural projects, and so much more!

The possibilities are endless.  If you dream it, we support it!  Postech Screw Piles Windsor offers a clean, fast, and affordable alternative to traditional concrete foundations with no more worries of rotten posts or heaving concrete tubes.  Screw piles work extremely well in both compression and tension loads.  Carrying 7 shaft sizes and a wide variety of blade diameters, we are your foundation specialist from small residential projects to large commercial and industrial design loads.  Upon request we can supply Engineer Stamped Letters of Compliance and Specification Sheets.
We proudly service Windsor-Essex County and surrounding areas.  Our professional and Certified Installers take extra care not to damage landscaping by moving our compact excavator on plywood sheets.  In just a few short hours your foundation can be installed, laser-leveled to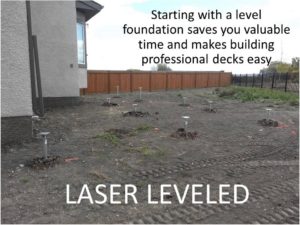 the desired height, and ready for immediate loading.  Engineered and Building Code Approved for use across Canada since 1995, Postech has created the only insulated Thermal Pile® on the market.  This patented internal insulation allows Postech Windsor to offer unparalleled product guarantees against frost-heave.
A deck built on Postech Screw Piles will keep the wood framing dry, ensuring the structure doesn't rot at ground level.  If the deck is being attached to your home with a ledger board, it's important the right steps are taken to ensure your deck doesn't move or pull the ledger board away.  If moisture and water get behind the ledger board due to deck movement, it can result in structural damage to your home!  The proper flashing can be used (depending on the material your home is constructed with) to keep any moisture from getting between the ledger board and your home, but the primary and most important solution to prevent movement of the ledger is to start from the ground up with Postech Screw Piles.  Once the piles are installed, Postech Windsor's certified installers supply an installation report indicating achieved capacities based on Engineered Torque VS Capacity Charts.  Our specialized equipment monitors hydraulic pressure and torque, ensuring each and every pile we install meets the design loads of your project.  We will actually indicate exact load capacity of each pile on our pile report which the customer and/or building inspector will receive.
Interested in screw pile technology for your residential deck or addition project?  Visit https://southwestpiling.ca/ for more information.
Questions about screw piles or looking for a free quote?  Call Carmine Aquino, Customer Consultant for Postech Screw Piles Windsor at 519.551.5581 or feel free to email us a set of plans for our review and we'll get back to you with a quote: [email protected]