Sure privacy is nice, especially for swimming pools in your backyard, but there are both benefits and downfalls to these fences. Privacy fences are tall enough to ward off unwanted attention, sometimes as tall as 8 feet. So if you plan on laying out near the pool and you're worried about unwanted attention, they are a good choice. They also protect your children and pets from being on display to the neighborhood or passing strangers.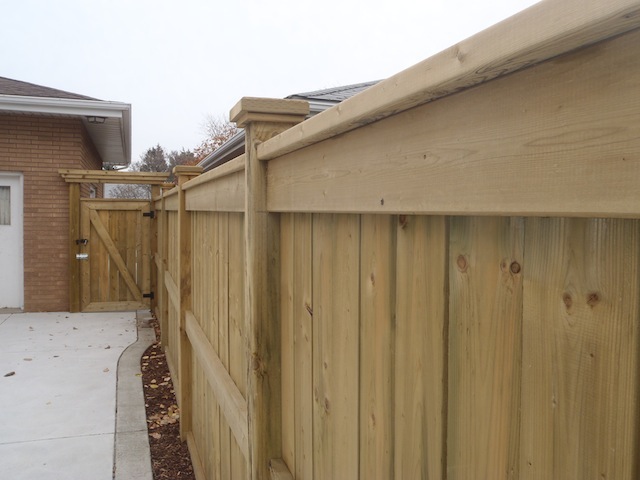 Privacy fences tend to comfort those that may feel paranoid about their space being invaded or uncomfortable with their neighbors.
These fences also protect your yard from unwanted visitors, including not only animals but people too. If you have a pool or trampoline, you could be legally liable for any harm caused to someone on your property. Privacy fences can help ensure that no one will walk onto your property, hurt themselves, and sue you. But there are also downfalls to these fences. They are expensive in comparison to chain-link and aluminum fences. While they are an investment to your home's value, they are still costly to keep up with normal wear and tear. You will need to budget more money for repairs than you would with a less expensive option. But most importantly, these fences tend to keep people, including neighbors, away. If you want to be interactive with your neighbors and neighborhood, a vinyl privacy fence could make socializing more difficult. These fences sometimes give the vibe that you want to be left alone rather than be bothered by others.
Even more importantly, privacy fences can block your neighbors' view of intruders in your home. If you want your neighbors to keep a watchful eye on your home when you are out of town, a privacy fence will hinder their ability to notice anything abnormal. It is important to weigh the pros and cons of building a privacy fence before you make the decision. If you have a pool, go for it. If not, you may want to consider another less inhibiting fence for your own security. Remember, a white vinyl fence doesn't always equal protection. A lot of the time, the help of your neighbors will outweigh anything a fence can do to protect your family and home.
About the author: Lindsey P is a homeowner and has a love for home improvement. She also enjoys garden décor.